BEST SMART LIGHT STRIPS 2022
BEST SMART LIGHT STRIPS 2022: Striplight is the best addition to any home, whether you want to enhance your parties or create a relaxing scene in your living room at the end of the day. Kitchen cabinet lighting or outdoor lighting to illuminate nights around the fire pit or grill. Strip lights can do all this when you buy the best ones. Light has the power to create a scene. Warm, subdued light can instantly create an intimate feeling. Bright, cool light can help you focus, and splashes of changing colors can create a party atmosphere. It doesn't have to be static. Synchronized or reactive lighting can enhance music, help cinematic action explode off the screen, and make gaming more immersive. Smart home lighting has improved significantly in recent years. It comes in more shapes and sizes and is more affordable than ever.
We've rounded up the best strip lights for all your needs and budget. From RGB to plain white, LED strip lights are an easy way to bring a little holiday cheer to any gathering. You can set different colors or sync them to music for Halloween or birthdays. And Christmas parties, all using the settings on the remote control or, better yet, the app on your phone.
What to consider when buying the best LED strip lights
There are many features to consider when buying the best LED strip lights, from color and size to intended use and brightness. Before purchasing an LED strip light, consider the following factors to ensure your selection meets or exceeds your expectations for your intended application.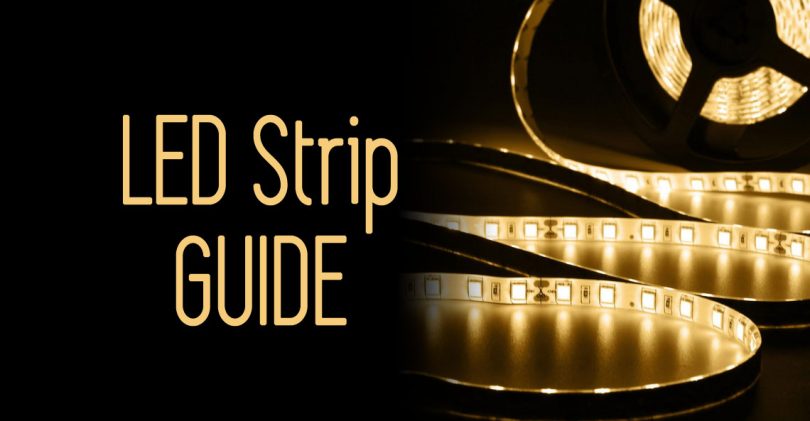 Place of use
Before deciding which product to use. It is important to determine where the LED light strip will be installed. Some designs fulfill specific purposes, such as lighting a staircase or backlighting a television. This specialization makes it different from the average LED light strip. For example, a TV backlight product might come with four pre-cut pieces and TV sync options that choose a color to mimic the colors on the screen.
Other placement considerations are waterproofing for patios, dimmer compatibility for bedrooms, or motion sensing for a hallway, bathroom, or stairwell. Even the more general installation of LED strip lights on ceilings or walls requires. Some consideration before purchase, so you don't end up with a specialty product. That isn't designed for where you intend to put it.
Length
Light strips are available in various lengths, typically from 1 to 32 feet. Brightness and intended purpose usually correlate with their length. For example, LED light strips intended for backlighting a television. Or for use on stairs tend to be shorter for easier installation.
Low-luminance LED light strips can be up to 32 feet long with approximately 300 LED lights. High-brightness LED strip lights can have the same number of LED modules. But will usually only be about 16 feet long. However, scissors can cut most flexible LED strips to fit small areas. If a longer LED strip is need, the pieces can connected. and adjusted to the desired length.
Flexibility
Most light strips have a flexible circuit board that can bend around corners or guides over curved surfaces. However, some LED light strips are so easy. That they can also bend up to 90 degrees without damaging the circuit board.
However, as the power of the LED light strip increases. The flexibility decreases, with some light strips being completely rigid in design. These rigid products are much shorter, sometimes only 1 foot long, and significantly brighter than the average light streak. They can also incorporate motion sensing technology, making them ideal for stair lighting.
Brightness
The brightness of the LED light strip is measure in lumens per meter. Brightness can be difficult to determine, and some manufacturers do not list this information. However, when you consider the LEDs' density. The light strip's average brightness search it. Average light strips come in two shapes: standard density (SD), 30 LEDs per meter (9.1 LEDs/foot), or high density (HD), 60 LEDs per meter (18.3 LEDs/foot).
Standard density (SD) light strips produce an average of 540 LM and require 27 watts of power. They can be up to 32.8 feet long. High Density (HD) light strips provide an average of 1,080 LM, require 40 watts of power, and have a maximum length of 16.4 feet.
Color and color temperature
It is important to keep in mind the color of the light strip. Some light strips only come in one color, while others can have a color selection that runs into the millions. The color option you choose depends entirely on your personal preference.
Color temperature is measured in degrees Kelvin (K) . And explains how warm or cool a light color appears, with lower numbers indicating warmer color temperatures. For example, the soft glow of the average light bulb is a warm temperature of 2,700K, while natural daylight is much cooler, averaging 6,500K.
Power consumption:
Wattage measures how much energy a light strip needs to operate at optimum brightness. If the light strip requires more power than the power source can provide. It will not function properly and often produces a much weaker light. LED light strips run on batteries, using power adapters plugged into wall outlets. Or hardwired directly into the home's electrical system.
LED strip lights with lower brightness requirements, such as the 540-LM strip, will also have reduced power requirements. As brightness requirements increase, so do power requirements, with a 16.4-foot standard-density light strip requiring 27 watts. And a 16.4-foot high-density LED light strip requiring 40 watts.
Act
In years past, LED light strips were hardwired into the electrical system to operate with a light switch. Or plugged into an electrical outlet and controlled by a button. However, LED light strips have come far from their original design.
Light strips connect to Bluetooth, Wi-Fi, remote controls, or mobile phone apps. Can use these controls to adjust brightness and color, program lights to sync with the music. Or set schedules for waking up, coming home from work, or going to sleep.
LED light strips that connect to smart home ecosystems like Amazon Alexa or Google Home can even be controlled with voice commands. At the same time, more straightforward single-color options may only have a remote control to turn the light on or off.
Regardless, entering the LED lighting space is a great way to customize your computer, home, and more, so have fun with it! Enjoy!
OUR TOP PICKS:
BEST SMART LIGHT STRIPS 2022:
If you should decorate an entire room or a large area with LED strips. Then the Tenmiro LED bars measure 65.5 ft. When we tested, these LED strips were long enough to illuminate any area. And have a design that can be cut. And adjusted for shorter lengths, depending on your needs and preferences. These LED strips are very simple to install. And can be placed on any dry flat surface using self-adhesive tape. In addition, the complete set comes with a 44-key IR remote control that makes these lights easy to operate, four reels of 16.4 feet LED strips, a user manual, a controller, and some installation accessories.
When I try, These Tenmiro LED light strips are the perfect accessory for anyone who wants to add a colorful atmosphere to their space. And at constantly discounted prices, this is especially true for those on a tight budget. This kit comes with two 50-foot rolls that add up to 100 feet of Bluetooth-enabled self-adhesive strip lights that change color. And brightness to set the mood you want in your home. Although the Tenmiro LED light strips include a 44-button remote control, you can connect them to a mobile device via Bluetooth.
Setting up these strips can be strange as you may encounter initial issues with the remote or pairing it via Bluetooth with your device. However, once set up, they proved to respond reliably. Tenmiro LED Strip Lights are cuttable. So you can adjust the length of your lights for any room you should place them in. They are ultra-bright and come with high-quality LED chips that increase color capability and durability. In addition, you can balance the brightness of the light strip using the 44-button remote control.
Color: Multicolor
Brand: Tenmiro
Indoor/Outdoor Usage: Indoor
Special Feature Color: Changing
Light Source Type: LED
Power Source: Corded Electric
Light Color: RGB
Theme: Music
Occasion: Christmas, Birthday, Halloween
Controller Type Remote Control, App Control
Nexillumi's 50-foot Music Sync LED Light Strip uses 540-LM LED lights for a great accent to a room or entertainment center. Two 25-foot flexible light strips are included, along with several straight. And L-shaped connectors. So that the light strip can be cut and used anywhere.
The lower brightness of these LEDs means that only 27 watts of power are required for the best light performance. Download the Ehome Light app for customized color selection, music response, and brightness optimization. Remote control with the same functionality is also included for those not comfortable with smartphone apps.
We tested these lights in the kitchen. The Nexillumi strips are not coated, which made them lighter. Which helped the adhesive hold the strips in place under the upper cabinets. Although they do not emit much light, they are enough to provide accent lighting and better visibility. The app worked well, but the remote control wasn't the best. We found that the remote had to be quite close to work, and sometimes it didn't work.
Color: Multicolor
Brand: Nexillumi
Indoor/Outdoor Usage: Indoor
Light Source Type: LED
Power Source: Corded Electric
Theme: Music
Occasion: Christmas
Style: 65.6ft LED Strip Lights
Material: Copper
The Govee 32.8ft Smart LED Light Strip has nearly 33ft of bright 1,080LM lighting with up to 16 million color choices through the Govee home app. The light strip can also be connected to Amazon Alexa and Google Home to provide voice control of the lighting. Turn lights on or off when you walk into an area, or even control the color fixture without lifting a finger.
It comes in two flexible 16.4-foot rolls and needs 40 watts of power for optimal functionality. Use your smartphone to set an operation schedule or enjoy a sound-responsive microphone that prompts the LEDs to change color with musical beats, hand claps, and other sounds.
In our testing, we searched that this Govee light strip balances a little bit of everything, from grip to color options and planning. We tested the lights under the kitchen cabinets and found them bright enough for task lighting.
The app had excellent connectivity, great scheduling, and lighting options based on scenes or manual preferences. Govee gets extra points for supporting clamps that glue or screw on to hold heavier electrical cable sections when needed.
Color: Rgbic
Brand: Govee
Indoor/Outdoor Usage: Indoor
Special Feature: Corded
Light Source Type: LED
Power Source: Corded Electric
Light Color: RGBIC
Theme: Music
Occasion: Christmas
Style: Modern
The Ksipze Led Strip Lights LED TV Backlight with Remote Control, designed for TV backlighting, comes in four strips with an adhesive backing for easy application. The 540-LM lighting is perfect for setting the mood behind the TV while playing your favorite game or watching a scary movie.
You don't have to worry about power requirements because the light strip connects directly to the TV via the USB port. If the TV does not have a USB port, plug the adapter into a power outlet. Choose from 16 different colors or dim the lights with the included remote control. However, remember that this light strip set is only for TVs or computer monitors and probably won't be a great choice for other situations.
The Ksipze Led Strip Lights LED strip lights stuck on easily and never lost their grip during our testing. They provide subdued accent lighting, making them our pick for the best TV LED strip lights because they're perfect for backlighting your TV. The remote isn't hard to use, although it's just a guess at what each button does. The light strips are divided into sections with flexible connectors. So you can customize them to fit the TV. We found this feature useful during installation.
Color: Multicolor
Brand: KSIPZE
Indoor/Outdoor Usage: Indoor
Light Source Type: LED
Theme: Music
Occasion: Christmas
Controller Type: Remote Control, App Control
Connectivity Protocol Bluetooth
Number of Light Sources: 1
Control Method: App
The DAY BETTER Wi-Fi Smart Led Lights Strip is not flexible like most other light strips. Instead, it provides an area of ​​10 feet where the motion sensor can detect movement and automatically turn on the LED light strip. After 18 seconds of inactivity within 10 feet, the light strip will turn off. In addition, the high-density light strip can be attached. Or removed from the magnetic holder for easy charging via the USB port, eliminating the need for electrical wires.
The ultra-slim design is ideal for dark corridors or stairwells to provide illumination during the darkest hours while remaining unobtrusive to the feet. In addition, the anti-glare diffusion plate also makes it an ideal night guide. Preventing users from being dazzled when it automatically activates.
This light was a problem in our testing. We tried it in the office, attaching it to the shed above the desk. It has three settings – on, off, and auto. No matter how much we walked, waved, or waved, it didn't turn on when set to auto until about five days into testing. Then, suddenly the motion sensor worked so beautifully for the next week.
Despite the sensor issues, the design of this light was one of our favorites. It is attached using magnetic holders equipped with adhesive tape. Slide the light out of the holders to charge it. And it can be attached to any magnetic surface. We loved the bright light and would replace the table lamp to save space.
Color: Multicolor
Brand: DAYBETTER
Special Features: Dimmable
Light Source Type: LED
Power Source: Corded Electric
Theme: Phone, Holiday
Occasion: Christmas
Material: Plastic
Controller Type: App Control
Connectivity Protocol: Wi-Fi
How did we choose these strip lights?
If I'm honest, strip lights are something I like to add more to the exterior than the interior. But I'll admit it's fun to play around with different lighting colors and scenes around my house, mainly when you use the best strip lights.
Reliability in installation is one of the first things to look for in a light bar. And that's just one of the features. We looked for when choosing these lights. The glue must be tacky and robust enough to hold these lights. As they are often installed under cabinets. Or along the ceiling. Also, many lights on the market have grip issues, so this is one of the first things I look for when choosing strip lights.
Along with the installation, we tested how reliable the strips are to ensure the LEDs. Don't randomly go off or get stuck on a random color, regardless of your choice. We've focused on these features and more, combining them with our experience with various strip lights and extensive research to determine which ones are the best.
FAQS:
Why are some LED strip lights expensive?
Most of what reasons the price of strip lights increases compared to others is the build quality and control options. For example, some light strips do not have a coating on the LED lights, while others have a flexible coating resistant to moisture and dust.
Smart LED strip lights will also add to the cost, especially considering whether they have wifi or Bluetooth capabilities or another connectivity format like Zigbee or Z-Wave.
Can LED strips catch fire?
The truth is that any electrical element can catch fire under the right circumstances. However, LED lights do not heat up as much as a conventional light bulb. So the likelihood of the heat creating a fire is extremely small. As with any electrical product, ensure your outlets are in good condition before plugging anything in, as issues with the outlet would have a higher chance of causing a fire than the very low heat from the LED strip lights.
Are LED strip lights worth it?
Although LED strip lights are more expensive than your standard bulbs, a lower energy bill and a more relaxed home environment may be worth the benefit. LED lights are much more energy efficient than the average incandescent light bulb. So adding them as a replacement for using these bulbs will undoubtedly save on energy consumption.
Can you cut Hue light strips anywhere?
Marked section lines mark the end of one circuit and the beginning of another. Therefore, you should only cut along these lines, usually between the copper dots.
Do LED lights behind the TV help?
By placing a light behind the TV, you increase the average ambient light in the room. And reduce eye strain, meaning you can watch TV or work longer without all the negative side effects. As a bonus, your perception of contrast on display will increase.
Is it safe to watch TV with the lights on or off?
You should avoid watching TV in the dark – trust us, you'll be able to watch your favorite holiday movies for longer! Also, when the room is dark, allowing light to enter your eyes more easily causes eye pain and fatigue from glare.
Conclusion:
And smart strips can be integrated with the rest of your lighting. Or react to music or other sounds in the house. We've tested five popular models to help you figure out which LED light strip best suits your situation. Whether you're finding for indoor or outdoor lighting, the best smart strips, or something basic, we've rounded up the best LED strip lights available for any setting. So if you like them, don't forget to buy them.